Reynolds opening COVID-19 vaccine eligibility to senior Iowans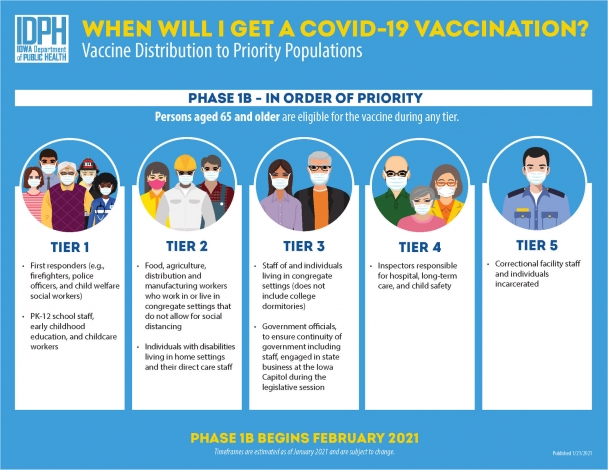 As the first wave of COVID-19 vaccine rolls out across the state, Governor Kim Reynolds is expanding eligibility, moving forward to get the vaccine out to Iowans as quickly as possible.
"As soon as our weekly vaccine allocation is received it's going out the door and into the arms of Iowans across the state," said Reynolds on Thursday, January 21.
The state has received more than 160,000 doses of COVID-19 vaccine since distribution began and is currently continuing to receive 19,500 doses per week from the federal government, not counting the doses allocated to pharmacy companies to vaccinate staff and residents of the state's long term care facilities.
The first priority group for the state's allotment of vaccine has been frontline healthcare workers and after administering more than 100,000 doses since distribution began.
Inoculating the staff and residents of long term care facilities has gone a little slower, but they too are on pace to soon complete first dose distribution.
"We've been assured by the providers that the first doses will be completed statewide by the end of the month," said Reynolds.
With the first priority groups largely accounted for, the state is now looking to open eligibility to the next level of priority populations.
Specifically, beginning February 1, Iowans age 65 and older will become eligible for vaccination. Shortly after, the state will open up eligibility to their Tier 1 population, which includes of teachers and first responders.
However, eligibility does not necessarily mean availability and it is unclear when any particular person in these populations might be able to receive the vaccine.
"We need to emphasize that demand for the vaccine will vastly exceed our supply," said Reynolds.
In total, as of January 22, 167,961 doses of COVID-19 vaccine have been administered to Iowa residents, with 26,463 vaccine series completed. The state will be introducing a vaccine tracking page to coronavirus.iowa.gov some time soon to document how vaccine distribution is going across the state.
As of Sunday, January 24, there have been 313,139 confirmed cases of COVID-19 in the state, increasing the 305,150 total from the week prior by 7,989. This marks a continuing trend of declining virus activity after a spike following the New Year.
"Not surprisingly, we experienced an increase in positive cases following Christmas and New Year's gatherings," said Reynolds. "But they were minor in comparison with other parts of the nation and far from the surge that some predicted would occur."
In the last week, 4% of new cases have been among the elderly (age 80+), 17% among older adults (60-79); 29% among middle aged adults (40-59); 33% among young adults (18-39); and 16% among children.
With 274,730 considered recovered, that leaves roughly 33,921 Iowans currently known to be fighting the disease, a small drop of about 450 active cases from a week ago.
Hospitalizations saw a significant decrease in the last week, dropping 100 patients down to a total of 383 hospitalized as of Sunday, including 84 in an ICU.
In testing, a total of 3,502,513 COVID-19 tests have now been performed on 1,448,571 individual Iowans since the pandemic began, including 2,434,808 PCR tests and 1,067,705 antigen tests. In the last week, the state has processed 63,388 PCR tests and 62,820 antigen tests.
In addition, 97,951 Iowans have undergone serology testing for coronavirus antibodies, which would indicate that they have had the virus. Of that number, 12,811, about 13%, have tested positive for antibodies.
Recorded deaths are down slightly, with the state adding 165 COVID-19 related deaths to the record in the last week, bringing the statewide total to 4,488.
In total, approximately 2,659 elderly (59.25%); 1,521 older adults (33.91%), 265 middle aged adults (5.91%), 40 young adults (.89%), and at least one child (.04%) have died from the virus since the pandemic began.
Another 99 deaths were recorded from long term care facilities, bringing the total deaths to 1,860 since the pandemic began.
On the upside, the number of long term care facilities reporting outbreaks continues to decline, with a reduction of 10 bringing the total to 68 facilities consisting of 1,835 positive cases among residents and staff with 986 considered recovered.
The number of recorded deaths in long term care facilities also continues to catch up with a lag in record keeping, now totaling 1,761 deaths, an increase of 81 from the week prior.
Still, the number of long term care facilities reporting outbreaks continues to stay on the decline, with a reduction of 12 bringing the total to 78 facilities consisting of 1,998 positive cases among residents and staff with 1,051 considered recovered.
Category:
Mid-America Publishing
This newspaper is part of the Mid-America Publishing Family. Please visit www.midampublishing.com for more information.